An air conditioning unit is a complicated machine with lots of moving parts. Its design has evolved dramatically over time, but you only need to learn how its major components work to understand its operation.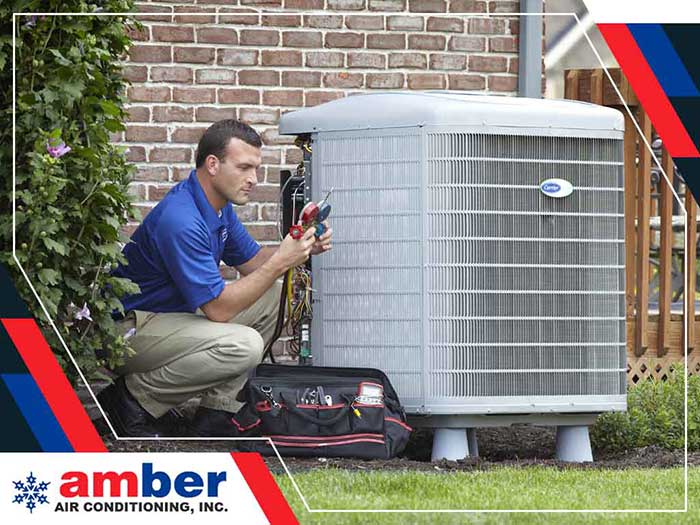 Filter
Its job description is to remove particles from the air that enters the equipment. Not only does it help purify indoor spaces, but it also keeps the entire system free from dirt. Cleanliness is key to AC efficiency and longevity.
Many factors come into play to know when to change filters. Generally, though, disposable one-inch filters require replacements every one to three months, while high-efficiency filters don't need changing for six to 12 months.
Compressor
This large, electric pump is responsible for pressurizing the refrigerant as it moves from the evaporator to the condenser. It's integral to the process of turning the refrigerant gas into liquid.
Condenser
It represents the hot side of the air conditioner. Its coils release the collected heat into the outside air through the help from the refrigerant liquid.
Fan
The condenser has a fan that blows the warm air over it to get rid of the heat. Fan failure is one of the causes of AC overheating, which is a risk factor for equipment breakdown.
Expansion Valve
The counterpart of the compressor for the evaporator, the expansion valve regulates the flow of refrigerant liquid going into the cold side of the AC. The refrigerant experiences a pressure drop upon reaching the evaporator, changing its form from liquid to gas.
Evaporator
Its coils cool the air, and remove the moisture from the evaporator by using the refrigerant.
Blower
The evaporator's fan circulates the chilled air over the cooling coils, and then disperses it into the indoor space.
Thermostat
Known as the air conditioner's control system, the thermostat monitors the temperature of the room. Using its setting as a guide, it decides whether the AC needs to produce more chilled air to attain the desired indoor climate.
Turn to the Authority on Air Conditioning in Lake Elsinore for Routine Inspections and Tune-Ups
Let Amber Air Conditioning Inc. help you keep every component of your air conditioning system in good shape. We employ credentialed technicians that specialize in repair and installation services to meet unique HVAC requirements. Call (951) 674-6974 or fill out this form to tell us about your AC maintenance needs.