Heat pumps and furnaces are two of today's most popular heating systems. In this blog, our experienced Amber HVAC technicians discuss the differences between the two, and how to determine which one is best for your home.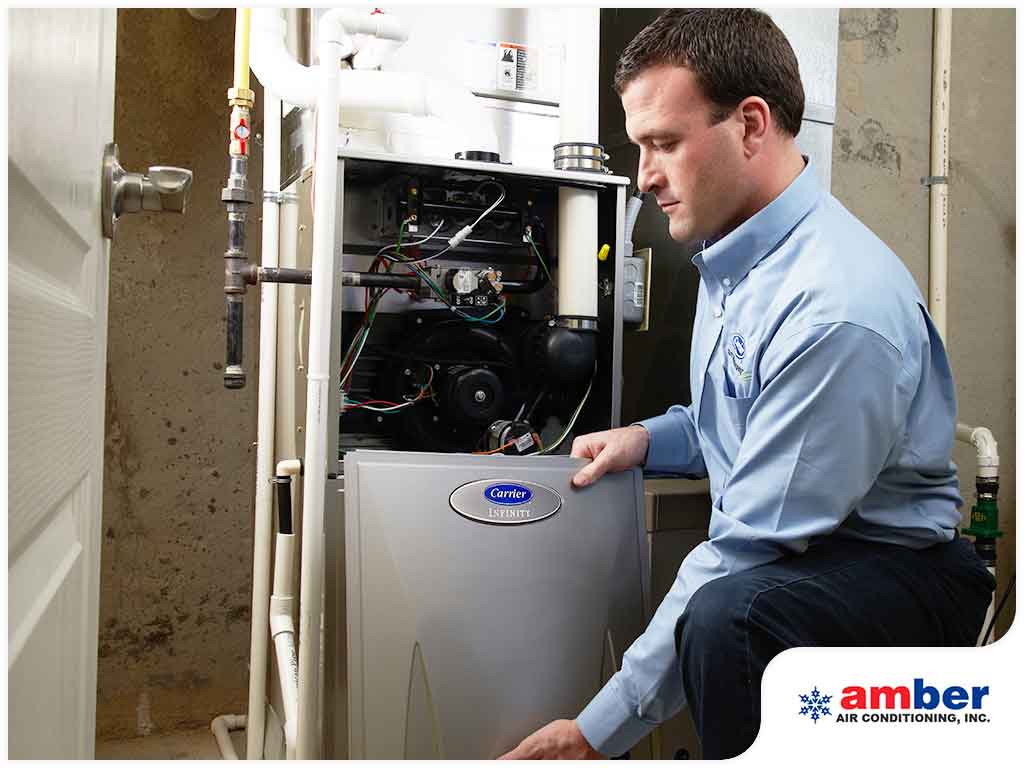 Furnaces
A furnace is a heating system that burns gas or oil, as well as electricity, to generate hot air. While it's similar to a fireplace in that they can both burn fuel to generate heat, a modern furnace is a closed system that's far more efficient. A typical heat cycle goes as follows: flames from the burning fuel heat a metal heat exchanger, while exhaust from the spent fuel is vented out of the flue. The heat exchanger then transfers the heat through a forced-air system, which is then distributed throughout your home via the ductwork.
Furnace efficiency is rated with AFUE, or annual fuel utilization efficiency. Certain types of fuel are more efficient than others, so when purchasing your next furnace, you should choose one with a high AFUE rating. Since electric furnaces don't actually burn fuel, most of them are rated with 100% AFUE. Also, the more efficient the furnace is, the less waste byproduct it generates, which helps maintain good indoor air quality.
Heat Pumps
Heat pumps, on the other hand, are essentially reversible air conditioners. At some point during an air conditioner's cooling cycle, it releases pressurized refrigerant, which generates a lot of heat. This heat is vented out through the condenser coils. The refrigerant then turns cold after this stage and is passed through the evaporator coils, where forced air is blown through, generating cool air. A heat pump simply reverses the process, so that the heat is now released into the house, while cold air is vented out. Depending on the type, heat pumps can draw ambient heat from the air, from a nearby water source or from the ground using embedded coils.
Which One Should You Choose?
As a good rule of thumb, furnaces are more effective in cold climates, whereas heat pumps are ideal for milder climates. If homeowners in Corona were to go by this rule alone, everyone would be using heat pumps. However, there are additional factors that should be taken into consideration; including cost of installation, energy efficiency, life span and maintenance requirements. Consult a certified HVAC contractor if you need help narrowing down your choice of a heating system.
Call Amber for Your Heating and Cooling Needs
Talk to an Amber AC technician to find out which heating system will work best for your home. Give us a call at (951) 674-6974 or fill out our contact form. We serve customers in Corona, CA, and nearby areas.