We at Amber Air Conditioning Inc. recognize the importance of keeping your home comfortable and livable. We also understand that HVAC systems can be quite costly for many homeowners. Since you shouldn't have to worry about money coming in between you and your home's comfort, we're happy to offer many financing options that are flexible and fit within your needs. You can count on us to not only provide you with the most efficient Carrier products on the market, but we'll make sure that your new HVAC system fits in your budget as well.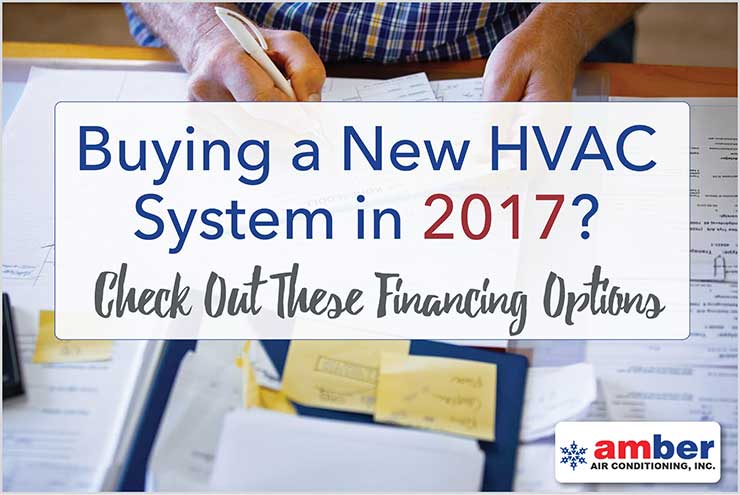 Financing is a smart way to improve your home's HVAC efficiency without tapping into savings or running up existing lines of credit.
Financing Options from Wells Fargo Financial National Bank
Amber Air Conditioning Inc. has partnered with Wells Fargo Financial National Bank to help homeowners with financial difficulties get needed HVAC repairs or purchase entire new systems. Through this partnership, we are able to offer a range of financing options so that our customers can purchase a new Carrier brand product or HVAC system for their homes. If you are in need of a new heating system or cooling system, we can secure the most suitable financing option for your needs.
Here are some of the benefits you can reap if you take advantage of the financing opportunities available through Wells Fargo: simple and fast application process, convenient monthly payments, fast credit decisions, competitive interest rates, online payment options, flexible terms, and convenient online statements!
We also offer WRCOG HERO financing, which is available for new heating and air conditioning installations. This program will enable you to get low interest HVAC financing, as the program's mission is to offer low interest rates to homeowners, which will both reduce utility cost by helping you purchase energy efficient products and help the local economy by providing the savings to you, the consumer.
The HERO program also has many benefits, such as: over 150,000 eligible products to choose from, low (fixed) payments, no credit score requirements, the ability to make payments with your property taxes, and more. And, since the HERO program finances products that consume less energy, less water, and/or produce clean renewable energy, you're doing the environment a huge favor as well!
Rebates
We also offer rebates, which can help you afford that energy efficient HVAC system upgrade you always dreamed of. We have an incredible team of people who are very familiar with Carrier products, and we're here to help you make the best purchasing decision when it comes to a new heating and cooling system. Even though we typically offer these types of rebates during the fall and spring, we're always here to help you figure out the best purchasing options for your home. We can advise you on which Carrier products will best suit your needs and determine whether or not you would be eligible for rebates.
Give us a call today to learn more about your upgrade options with Amber Air Conditioning Inc.. We're here to answer any questions that you may have about affordable financing that will help you enjoy an energy efficient HVAC system in your home. We look forward to hearing from you: (951) 674-6974