If you're in the market for a new HVAC system, it might be hard to navigate all the confusing terminology and acronyms to find out which system is right for you. Most homeowners are concerned about energy efficiency as they want to keep their monthly energy bills low. However, it can be hard to understand energy efficiency ratings if you don't know the terminology or how these ratings are determined. In this post, we'll talk more about how HVAC energy efficiency is measured and what you should look for when buying a new HVAC system.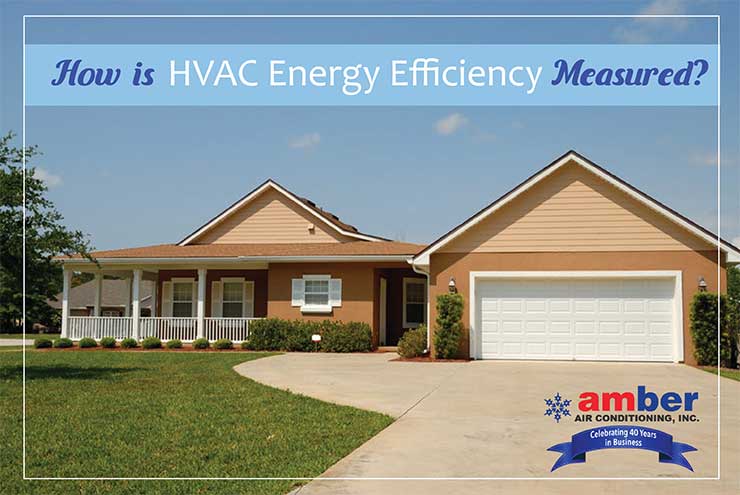 What is SEER and EER?
SEER indicates the electrical input that is required to run your air conditioner over an average cooling season as compared to how much cooling the system generates. This rating is based on an average temperature of 82 degrees Fahrenheit. EER is tested based on higher operating temperatures of about 95 degrees Fahrenheit or higher. EER takes humidity removal into account and basically measures a snapshot of a moment in time, which can be useful for showing how the unit performs at maximum capacity.
Both efficiency ratings are important to note during the buying process. The higher the rating, the less energy that the system uses. However, a high SEER rating does not necessarily mean a high EER rating. Often, a homeowner will need to install an air conditioning unit that can function efficiently in a range of conditions. The SEER and EER ratings help you determine how your system will function both over time and at maximum capacity.
What is HSPF?
HSPF is the heating seasonal performance factor. Much like SEER, this rating helps measure efficiency of the unit. HSPF measures efficiency over a heating season, and it is determined based on the ratio of heat generated to electricity consumed. The most efficient heat pumps produced today have a maximum HSPF rating of 10. This rating is important to look at when purchasing a split-system heat pump or single package as it gives you a better idea of how your heating system will perform over time in regard to efficiency.
Get Help Finding New Lake Elsinore HVAC System
If you're ready to buy a new HVAC system, it's important that you look at all your options for heating and cooling equipment. In addition to energy efficiency, there are many other factors that you should consider including brand, size, and cost.
The home comfort experts at Amber Air Conditioning Inc. are here to help you find the perfect new HVAC system for your home. Not only do we help homeowners like you choose an affordable and energy-efficient new HVAC model, but we also provide expert installation services. We also have financing options available upon approval. Call us today for more information: (951) 674-6974.